Workouts are held at Northside College Prep High School
5501 North Kedzie Avenue Chicago Illinois.
(5500 North and 3200 West)
The facility is a twentyfive-yard six-lane indoor pool with lane lines, backstroke flags and starting blocks.
Parking is in the lot directly in front of the school, and is entered off Kedzie Avenue.
You enter the main door, let the security person know you are going to the pool, bear to the right down the hallway to the Southeast corner of the building where the pool is located.
Locker rooms are available for changing before and after the workouts, and showers are also available.
Bring your belongings on deck.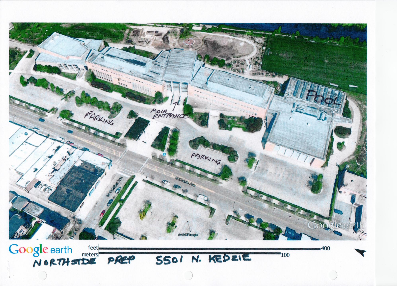 5500 N Kedzie Ave, Chicago, IL